(edit - Sorry, I forgot to change the title from day 4 to day 5. Should be fixed now)
26 Margay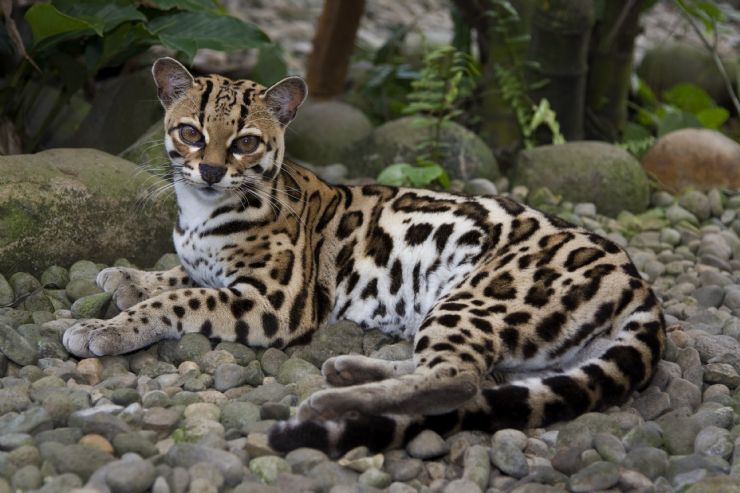 The margay is found in the forests of Mexico, the Amazon Basin, Argentina, Uruguay, Belize and Brazil. The margay is right in between the Ocelot and the Oncilla in size. The margay is primarily arboral and refuses to cross open fields. It is the only cat to possess the ability to rotate its hind legs 180° , enabling it to run head first down trees like squirrels. The margay can also hang from a branch by one hind foot. They are exceedingly quick, and even during a fall they can grab hold of a branch with one front or hind paw and climb up again.
Links for more about Margay:
http://www.wildcatconservation.org/wild-cats/south-america/margay/
http://bigcatrescue.org/margay-facts/
10 Serval
The serval is a medium-sized species of cat that is found throughout sub-Saharan Africa. Proportionately, the serval is the cat with the longest legs and the largest ears. The serval's sensitive hearing allows it to locate small mammals moving through the grass or underground, and to hunt its prey sometimes without seeing it until the final pounce. ears of the Serval allow them to sense the vibrations of rodents that are even underground and once detected, the Serval will dig it's prey out using it's sharp claws.The serval has one of the highest hunting success rates with a success chance of 50%, compared to domestic cats which have a 10% chance. The serval is also the wild cat ancestor of the savannah breed of cats.
Links for more about Serval
http://a-z-animals.com/animals/serval/
http://www.wildcatconservation.org/wild-cats/africa/serval/
http://bigcatrescue.org/serval-facts/
https://animalcorner.co.uk/animals/serval/
And a link about the savannah cat
http://f3savannahcat.com/
23 Cougar
The cougar is the largest of the "small cats" and can reach sizes comparable to the leopard. With the exception of humans, the cougar has the largest range of any terrestrial mammal in the Western Hemisphere, from northern British Columbia to Argentina. The cougar is sometimes referred to as "the cat of many names" are listed in dictionaries under more names than any other animal in the world. Some of the other names for the cougar include: mountain lion, panther, puma, painter, el leon, and catamount. The cougar is extremely agile and has great jumping power and may leap from the ground up to a height of 18 feet into a tree.
Links for more about Cougars:
http://a-z-animals.com/animals/cougar/
http://mountainlion.org/FAQfrequentlyaskedquestions.asp
http://animals.sandiegozoo.org/animals/mountain-lion-puma-cougar
http://bigcatrescue.org/cougar-facts/
A little bit of fun, my high school's mascout is a cougar