As I mentioned in my introduction, I have made it my goal now to finish at least a majority of my Work in Process or UFOs in 2012.
I have so far finished 2 for the year!!!
[img][IMG]http://i1063.photobucket.com/albums/t515/mg327/photo-1.jpg[/img][/img]
Lizzie Kate - Dog's leave pawprints... I just need to find the charm to add to it under the dog house. It is somewhere in the box of WIPs.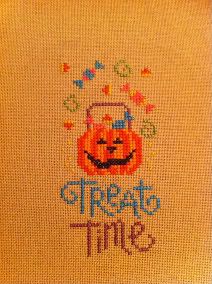 Trick or Treat -- this was very late, but instead I will consider it very early for 2012 Halloween. I have a spot I need to iron out of it and I need to iron out and then frame.
I am currently working on another one I have been on for awhile. I am filling in a large section of white and having a tough time just filling in all the same color, motivation seems to be gone. I don't have a photo of the progress now, but I will take one tonight. I do have the progress before I picked it up after the other two and that is below. As you can see, I am filling in the whole controller with white.