I tried to do this tutorial on my blog, but since Blogger (i.e. Google) can't seem to figure out how to play nice with Microsoft's new version of Internet Explorer, I still can't add any photos to my posts. This has been going on for months, and I am very frustrated. So since I took the time to create the tutorial I figured I would post it here so at least it will be here for y'all to use. So, without further ado, here it is:
=====================================
I am participating in the Passione Ricamo 20 Year Celebration Mystery SAL. This is a huge project and I did not have any scroll bars wide enough for it, so I had to order them. Since they are for my Millennium frame, they will take awhile to get here. In the meantime, I am making do with my Q-Snaps. I found the 17x17 was too wide to work with, so I messed around with all the pieces I had from a couple frames and the extension kit until I found a configuration that worked, which turned out to be roughly 11x15. I worked on my project using this frame for one evening and due to the large amount of excess fabric, I quickly became aware that I was in serious need of a grime-guard for this frame.
I learned to make my own grime-guards for my Q-Snaps a couple of years ago through a great tutorial on a blog that just isn't there anymore. Thankfully, I had copied the instructions in my own shorthand into a word document. So when I found myself needing a new grime-guard, I had that to refer to. I also decided that I would build my own tutorial on it, to help others. It is quite easy to do. While I can sew, my skills are quite basic, and I have no problem with this project.
Here is what you need:
- cotton fabric (light weight fabric is best, I just grabbed
some of the fabric I had in my stash from
my quilting class adventure)
- elastic (I use 1/4" width)
- 4 safety pins
- sewing machine
- iron and ironing board
- measuring tape
- scissors
other items I used that were quite helpful:
- cutting mat, quilters ruler, rotary cutter
- serger
STEP 1
. Determine the size
I would suggest you run a measuring tape around the outer edge of the q-snap to determine the circumference. The frames do say they are something like 8"x8", 6"x6", or 11"x17", but from my experience that is not their exact measurements, it is close but being borderline OCD, I need exact. I hold the tape against the frame, starting at one corner, and slide it along the outer edge all the way around.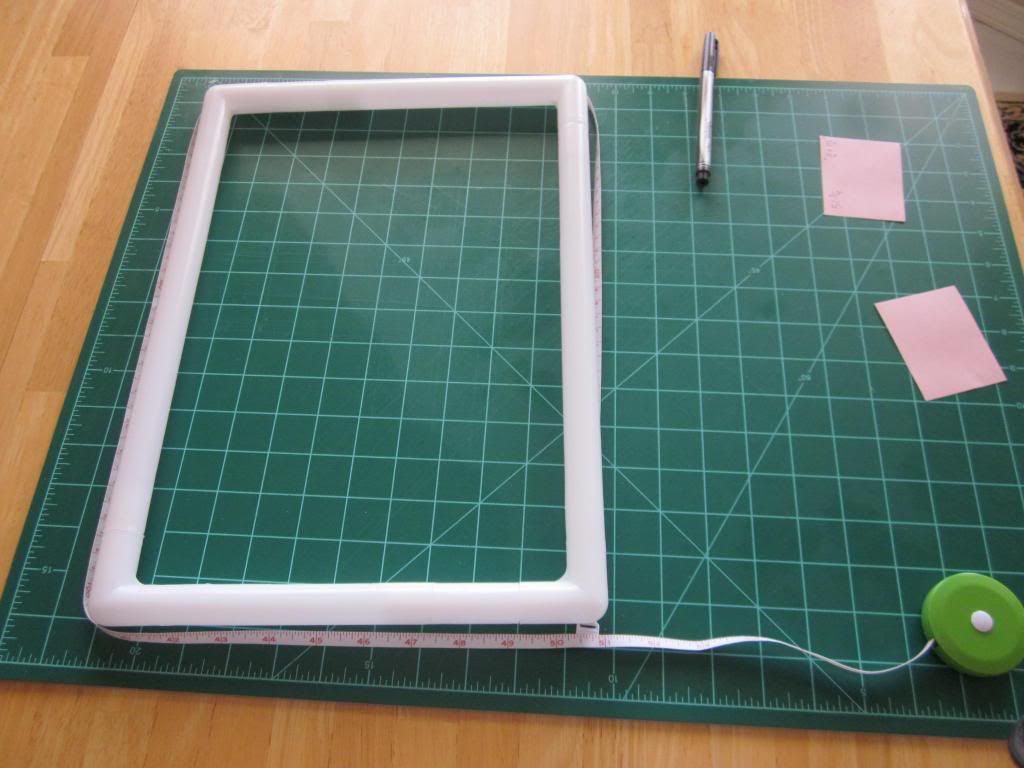 Once you know the circumference, then determine the size of your fabric and length of elastic pieces using these formulas:
Cotton fabric: length = frame circumference + 1"
width = 5 1/2"
elastic: length = 1/2(frame circumference) + 1"
Here is what my calculations looked like for my 11x15 frame configuration:
STEP 2
. Cut fabric to size. Cut 2 pieces of elastic to size.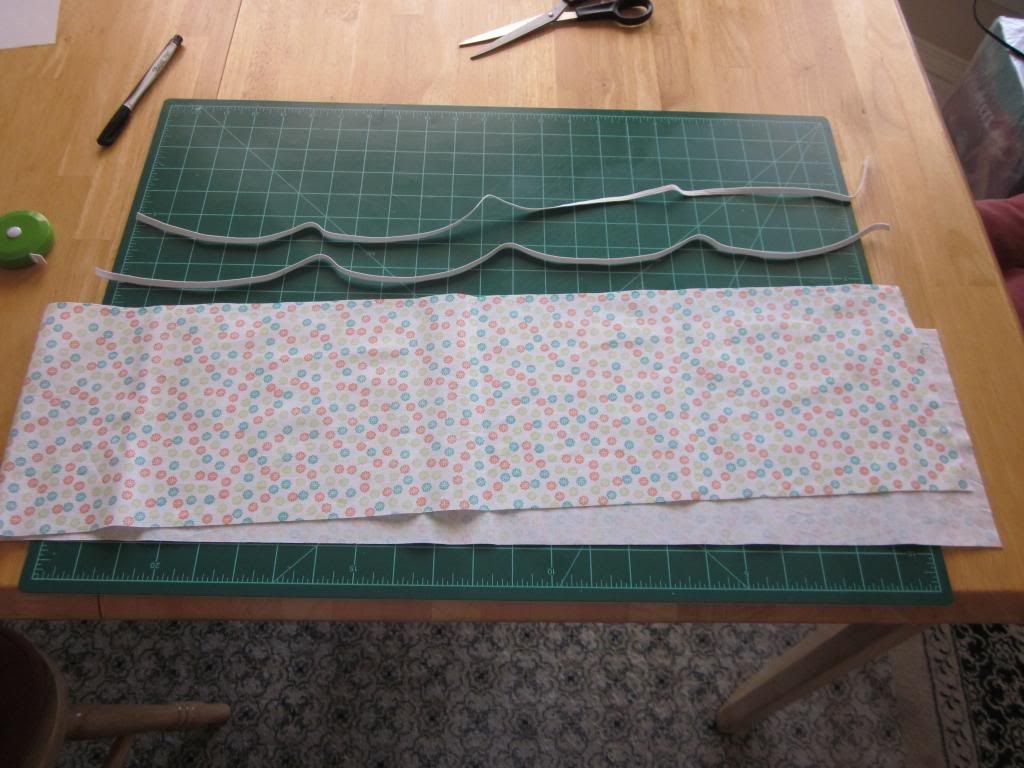 STEP 3
. Serge across short ends of fabric. You can zigzag stitch across, or use whatever you like to use to finish a raw edge. I used to leave this for the last step, but I learned to put the step here instead because of an incident I had when I was making my last grime-guard. The thickness of all the layers was just too much for my beloved Babylock serger and broke it.
STEP 4
. Iron the fabric. Then with right side facing down, turn in 1/4". I finger press it first, using a few measurements along they way, and eyeballing the rest, then press it in place with the iron. Do both sides.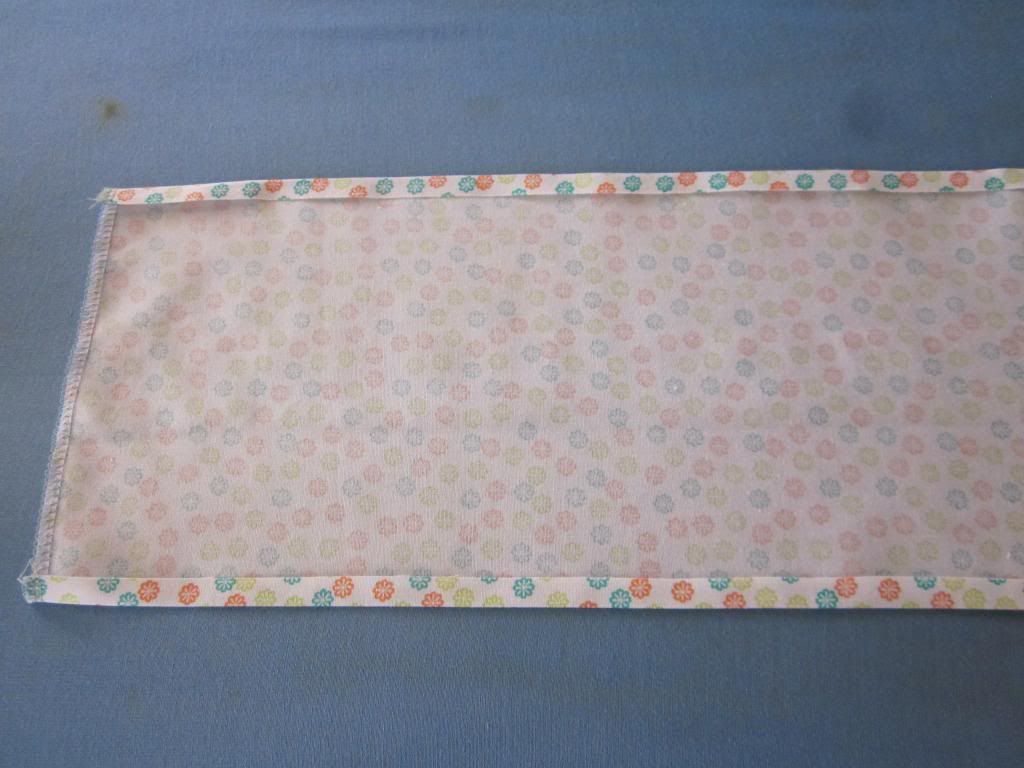 Then turn edges in 3/4", same way, ironing in place and doing both sides.
STEP 5
. Sew a straight seam down each side at about just under 1/4" from the inside of the turned edges. This creates the channels for the elastic to run through.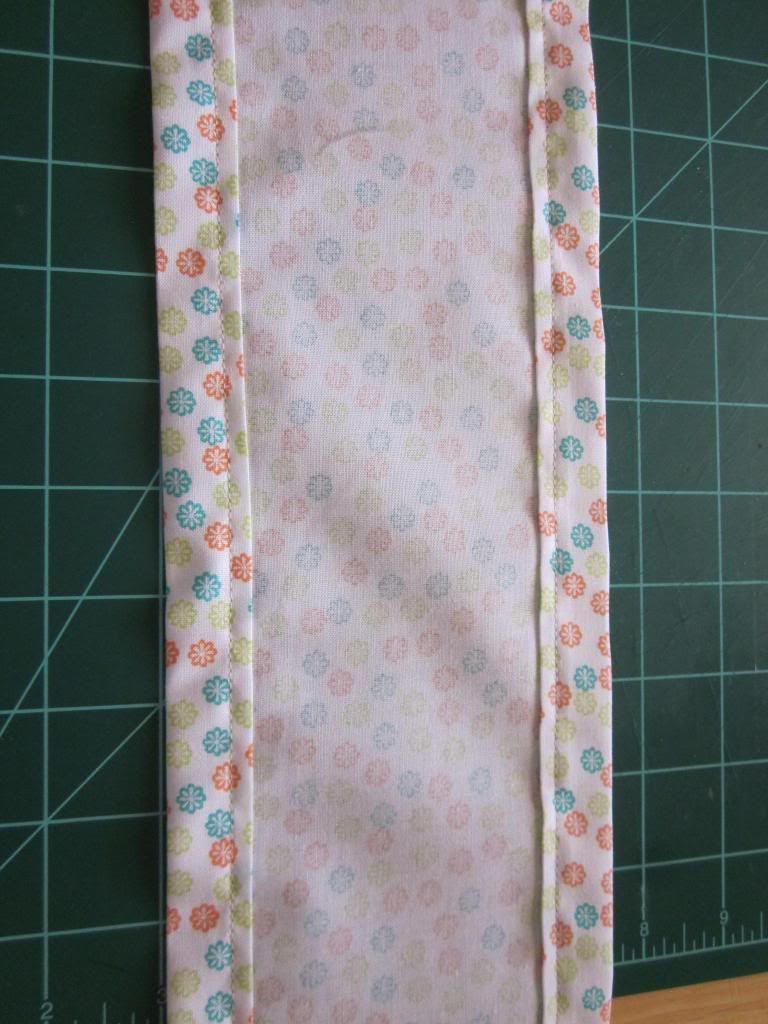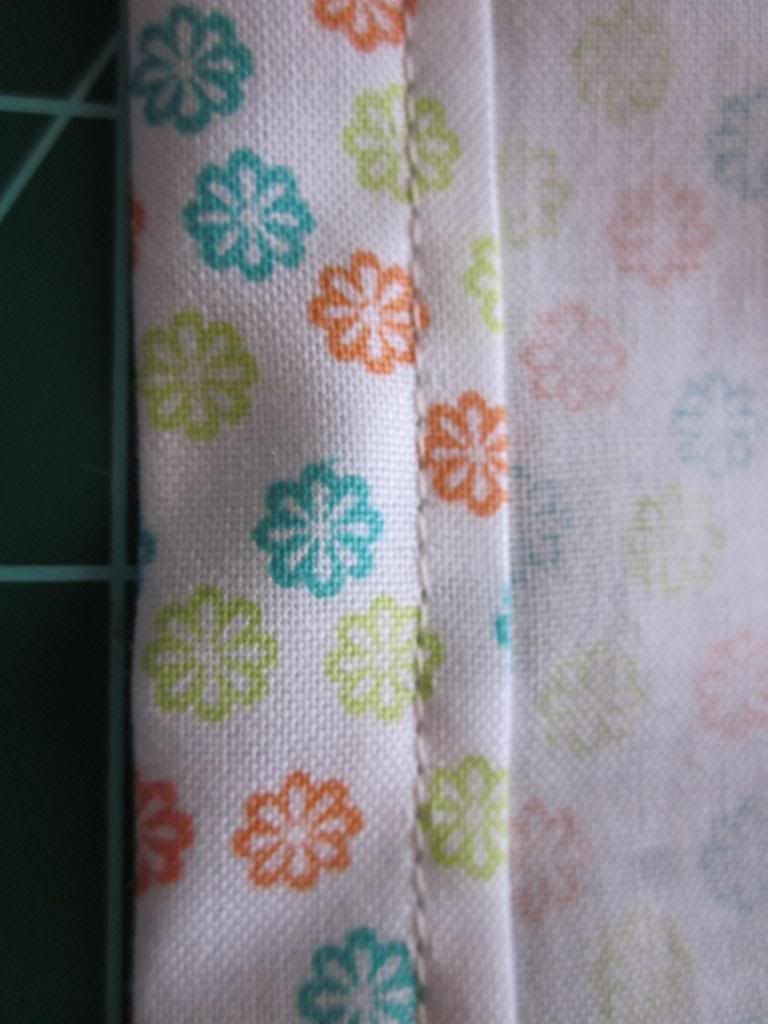 STEP 6
. Now it's time to insert the elastic. Start by attaching a safety pin to each end of the 2 elastic strips.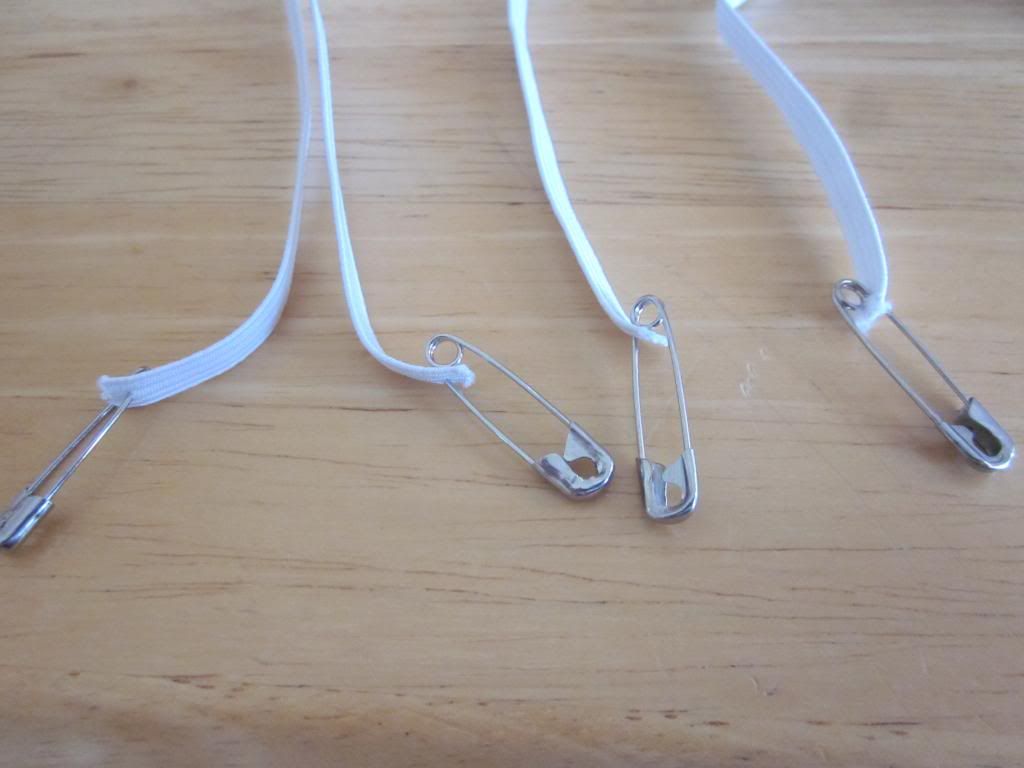 Insert the end of one elastic into the channel in one end of the fabric, and thread it through until the other end of the elastic is flush with the fabric. The safety pinned end you were working through the channel will be only about halfway through at this point. Tack the end of the elastic in place at the end where it is flush. Repeat with the other piece of elastic for the other channel, working from the same end.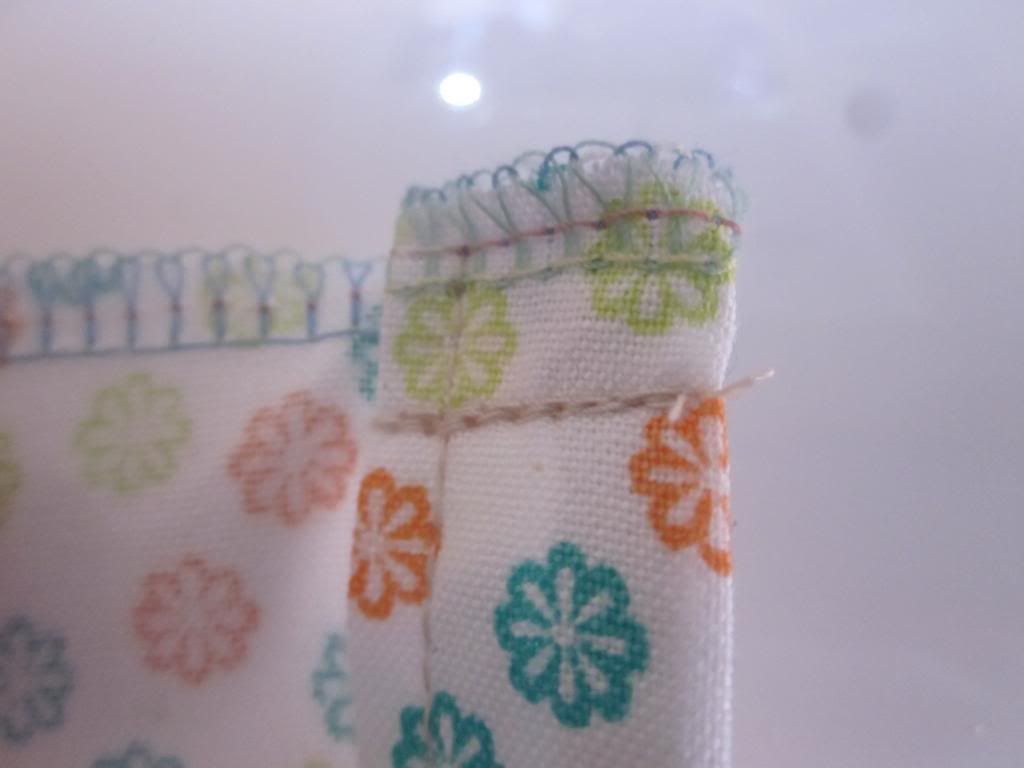 Next work the end of elastic the rest of the way though to the end of the channel. The fabric will start gathering and bunching up at this point. Once I have the elastic pulled through, I push the gathers away from that end and towards the other end. This allows me to have a flat, un-gathered section at my working end, which makes it easier to work with in the sewing machine. I get the elastic end where I want it and then use a safety pin to secure the elastic and fabric together a little ways back so it won't interfere with the sewing process.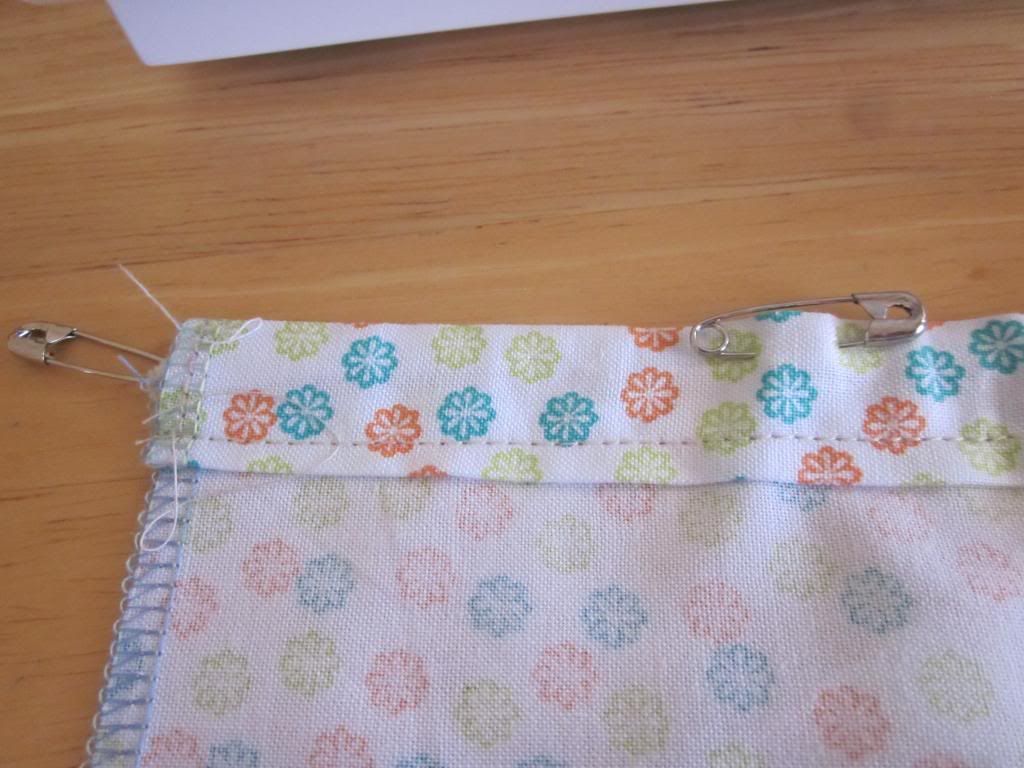 Tack in place. (My tacks consist of sewing over and back, twice)
Repeat for other side.
STEP 6
. Now we are ready to sew the ends together. I massage the gathers so the bunch up toward the center, giving me flat areas at the ends, which makes sewing them easier.
Place the ends, right sides together. I use a few pins to help keep everything lined up, and sew a straight seam across.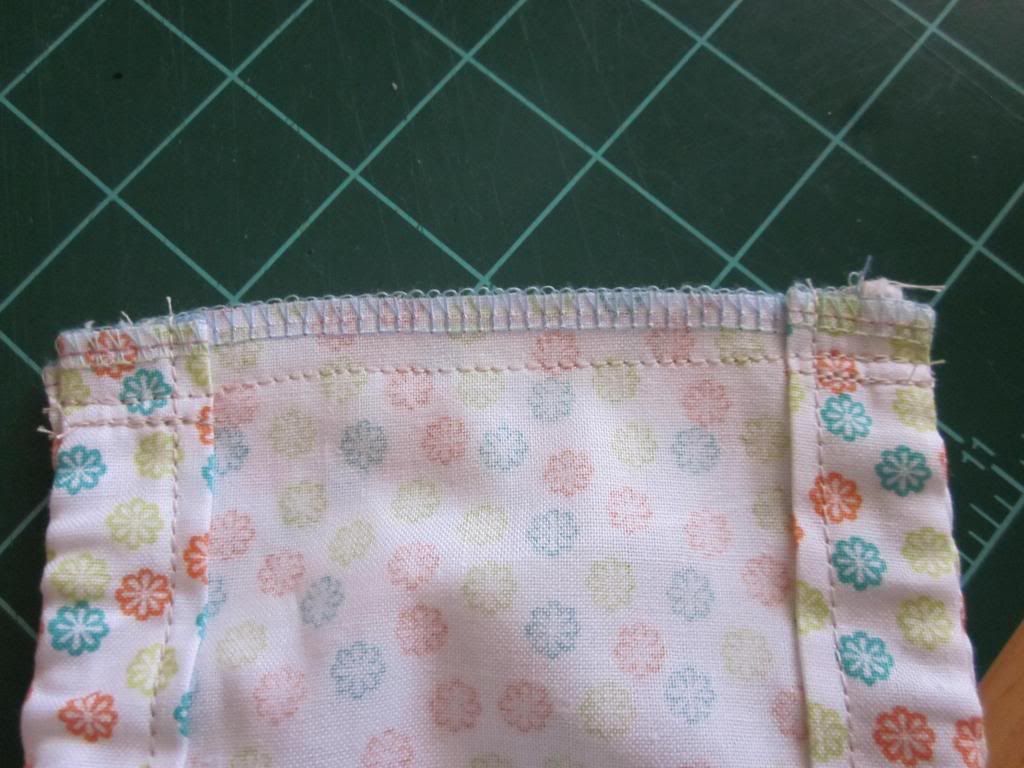 DONE! Turn right side out and it is ready to use on your Q-Snap.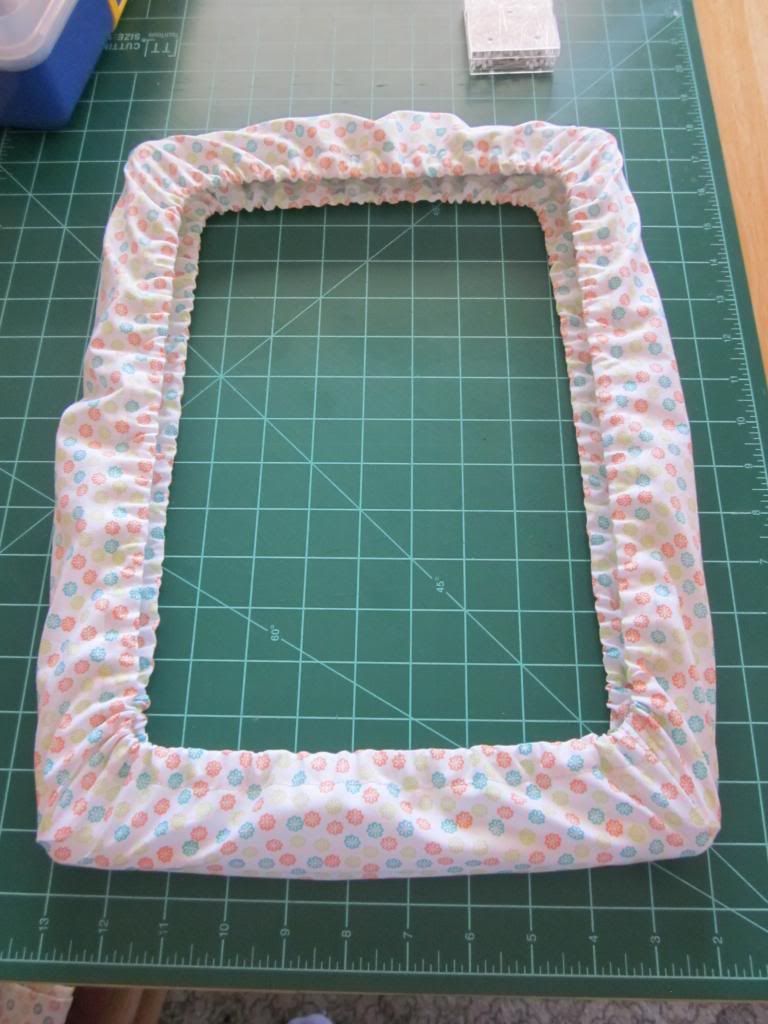 One other thing I did was to use a fine point sharpie pen to write the size of the frame this grime-guard is for one the inside. My other grime guards are on the frames that stay in their configuration all the time, so didn't really need to be labeled. I needed to construct this unusual size frame for a current project, and it will likely be broken down afterwards. But since I labeled this, I will know what configuration it will fit, in case I use it again in the future.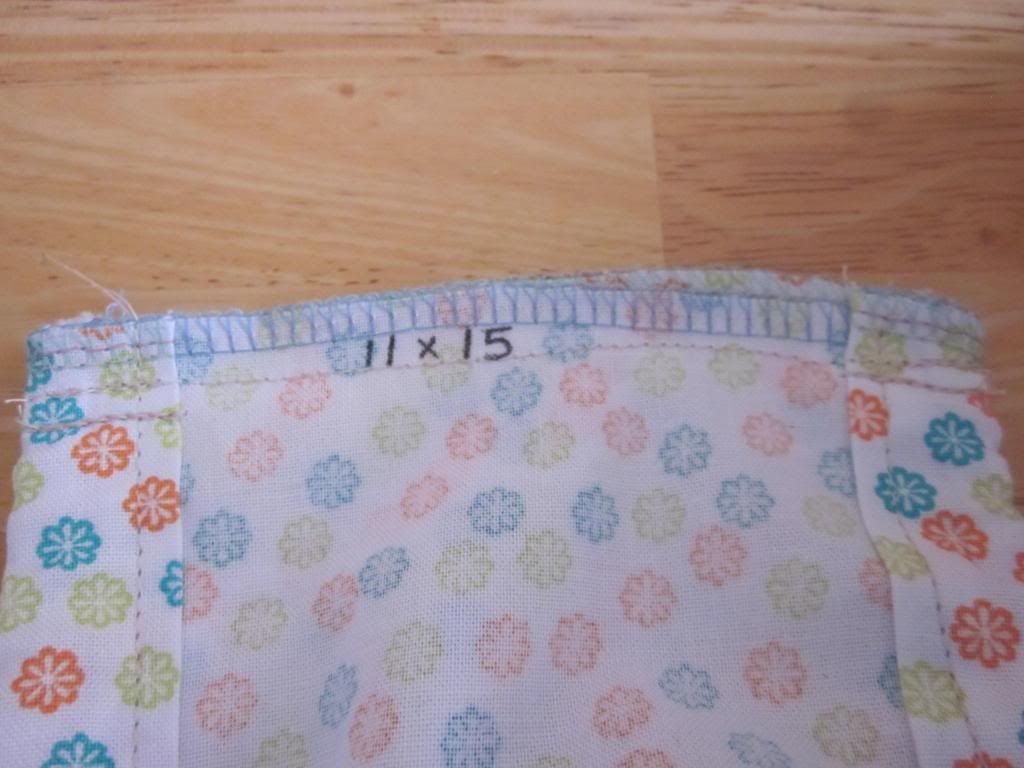 Here is the frame with the project loaded onto it. You can see just how much excess fabric I needed to corral.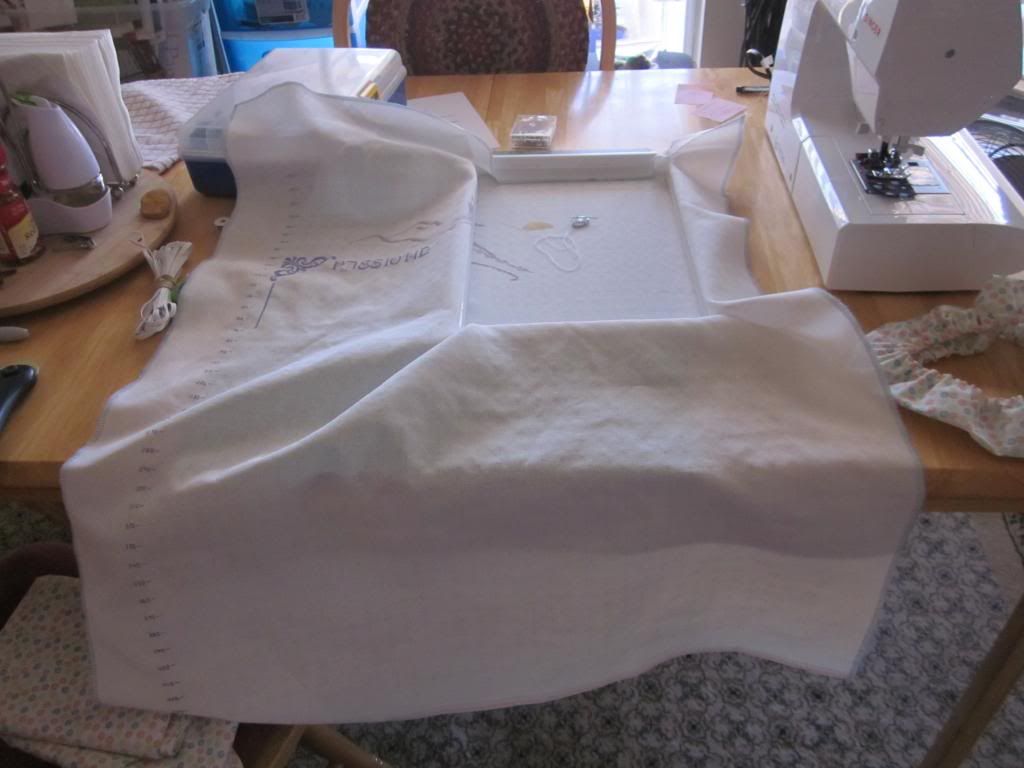 And here it is with the grime-guard on, neatly holding all that excess fabric out of the way.
I hope that you find this tutorial helpful. If you have any questions or comments, feel free to let me know.
As always, Happy Stitching!